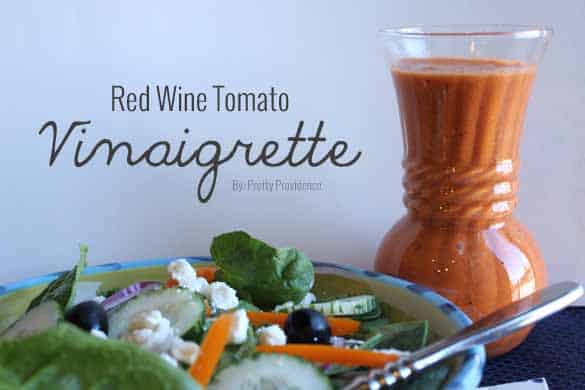 Hey everybody! I am Jessica, half of the creative team at Pretty Providence, and Lauren's friend and sister in law! We were actually college roommates, so I got to experience Lauren's amazing culinary skills first hand! As a tiny introduction, we (my bf Sarah and I) affectionately refer to Pretty Providence as a frugal lifestyle blog. We are all about having fun, looking good, creating a happy home and eating great food while living on a budget! I'm super excited to be here today to give Laury a tiny break to snuggle that gorgeous little niece of mine and share one of my all time favorite recipes, homemade red wine tomato vinaigrette!
I kid you not.. sometimes I eat this stuff just plain with a spoon. It is seriously the best salad dressing of all time, and I have no trouble making that claim! We love it on any green salad, or to dunk some crusty french bread into, or my absolute favorite use- on this bowtie pasta salad!
Who's ready for this goodness? Okay, let's get to it then.
…
Halloween Ghosts (Mozzarella cheese for the body and olives for the eyes) Halloween Mummy (Mozzarella cheese for the white strips and olives for the eyes) Halloween Spider Pizza (Pepperoni for the body, olives for the eyes, green bell pepper for the legs) Halloween Jack-O-Lantern (Pepperonis for the face, olives for the eyes, bell…