This is a sponsored post written by me on behalf of Similac® StrongMoms®. All opinions are 100% mine.
Everyone told me that baby number two would be totally different from my first child, but when Abby was first born I would have disagreed. Everything from her looks to her temperament was exactly like my first baby! I breastfed my first for 10 months, so I thought that would be a breeze the second time around too. And at first, it was. But after the first two months Abby became the fussiest eater. It was SO frustrating for both of us!
I decided to start pumping, and also supplementing with formula. My Medela breast pump saved me! And it has been nice supplementing with formula as well, so that I don't have to pump as often.
I think this is the first non-food related post I've ever written on the blog, but I just had to share this Strong Moms Giveaway with you guys because it's too good to miss, and the prizes are all things I use daily and couldn't live without–including my Medela pump!
Admittedly I still have baby and pregnancy related stuff claiming most of my thoughts these days. My new baby girl is just four months old and I have three (yes THREE) pregnant sisters, which means I'm talking about babies and pregnancy a LOT these days!
I could rattle off in 2 seconds what my top "must have" items for new mom's are! And items at the top of my list include an awesome stroller (it's totally worth it to spend more on a good one!), a Medela Breast Pump, a great camera or a photoshoot scheduled for newborn photos, and a boppy. The Grand Prize winner of this giveaway could walk away with several of my favorites and tons of other awesome stuff (including a MacBook laptop)!
You could win the GRAND PRIZE Gift pack (worth over $15,000). Plus play the instant win game for a chance to win one of the instant win prizes each day*. Here are the rules.
The Giveaway runs until February 16, 2015 and the Grand Prize includes:
Three Professional Photo Shoots
Canon EOS Camera and Lens Kit
$500 Shutterfly Gift Card
Medela Pump in Style Breast Pump

A 13-inch MacBook

Adobe Photoshop® Elements 12 and Adobe Premiere® Elements 12
But if you don't win the Grand Prize, you could still win tons of other prices including:
Similac® Prenatal Vitamins

Similac® for Supplementation Formula

Snoogle® Full Body Pillows

Beginnings Baby Record Book

Medela® Pump in Style Breast Pump

A What to Expect When You're Expecting® Book Set
Hurry and enter–the giveaways end on February 16th!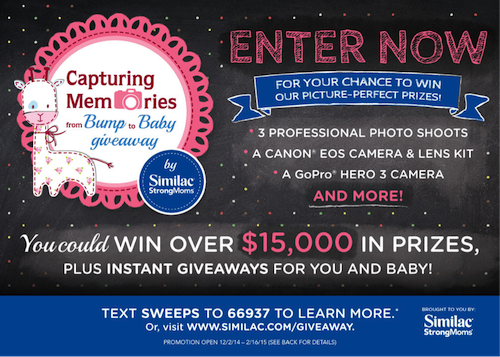 *The designers and manufactures whose products are featured in the giveaway are neither sponsors of nor affiliated in any way with this giveaway, nor do they endorse products or services of others included within the prize. All trademarks and service marks included on such products or services are property of the respective designers and manufactures.