This is a Roundup of more than twenty Christmas Treat Ideas to help keep you feeling the Christmas spirit all season long!
 Thanksgiving is over, so I took the liberty of sitting down my almost-two-year-old this morning to tell him all about Christmas! I told him that on Christmas we celebrate baby Jesus' birthday. And I, of course, told him all about Santa, his reindeer and how he brings presents to good little boys who mind their moms!
He was obviously pretty excited about the presents part!  And he already has a few Christmas songs in his repertoire–I think "Rudolph" is his favorite!  It's soo much fun watching him discover all of the joys of Christmas and really start to understand it this year!
I love involving him in the process of anything I'm making in the kitchen and I can't wait for him to help me make some fun Christmas treats! These Christmas Cornflake Wreaths (first on the list below) are one family tradition treat we will definitely be making together!  But check out all of the adorable ideas below–and get excited for Christmas in less than one month!
Christmas Cornflake Wreaths are one of my favorite easy Christmas treats that everyone in your family will love!
Caramel and Chocolate Dipped Pretzel Rods
Caramel and Chocolate Dipped Pretzel Rods will make you the hero of the party this holiday season!  Everyone goes crazy for this beautiful, tasty treat, made with homemade caramel, semi-sweet chocolate and sprinkled with all of your favorite toppings.
Chocolate Marshmallow Cookies are one of my favorite holiday cookies! Start with a delicious chewy chocolate cookie, topped with a warm marshmallow and smooth chocolate frosting.
These 5-ingredient, no bake Vanilla Creme Balls are the perfect easy candy to make for family, friends and neighbors this holiday season! A creamy vanilla center, coated in chocolate and toasted almonds.
People go NUTS for these simple, but amazing Graham Cracker Toffee Bars! The recipes require 5 simple ingredients, and less than 30 minutes to make. They're perfect for a quick and easy "homemade candy bar" type of treat that's sure to be a crowd favorite.
These no-fail, chewy and super soft sugar cookies are one of my favorites. Top them with cream cheese frosting or buttercream frosting.
Soft and Chewy Ginger Molasses Cookies
Soft and Chewy Ginger Molasses Cookies are one of my FAVORITE holiday cookies and I love to make them with cinnamon cream cheese frosting on top!
Great-grandma's amazing Rocky Road recipe is just four simple ingredients: a chocolate marshmallow lover's dream!  You'd be hard pressed to find an easier no-bake dessert recipe, and people go crazy for it! It's perfect for a simple weekend treat, potluck, or neighbor gifts during the holidays.
Chocolate Peppermint Cake Roll
Chocolate Peppermint Cake Roll with a cream cheese peppermint filling and chocolate ganache on top. A beautiful, festive dessert for the holidays!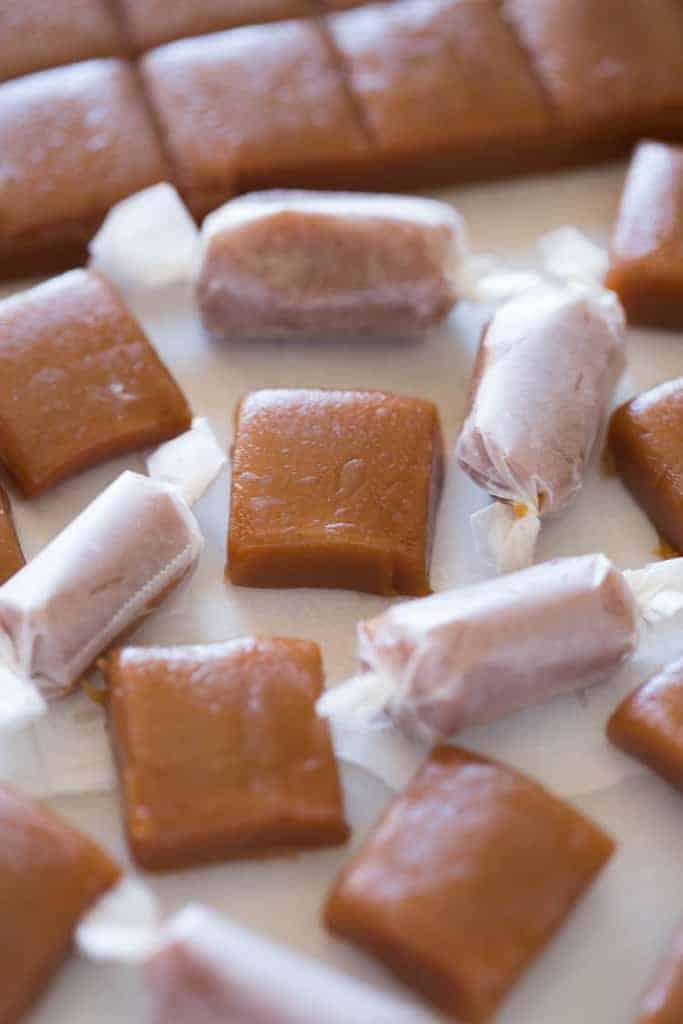 Homemade caramels are perfectly soft and chewy.  They are so easy to make and are great for gifts for friends and neighbors or just for your family to enjoy! 
Turtle cookies are delicious chocolate cookies, rolled in pecans, filled with melted caramel and drizzled with melted chocolate.
Chocolate Peppermint Kiss Cookies
Chocolate Peppermint Kiss Cookies are chewy chocolate cookies topped with a peppermint candy Hershey's Kiss.
Salted Chocolate and Caramel Pretzel Bars
These simple, 4-ingredient Salted Chocolate Caramel Pretzel Bars will quickly become your new favorite sweet and salty treat!  No bake and no candy thermometer needed.
These perfect Pecan Bars are a thick shortbread soft cookie bar topped with the most amazing candy-like caramel pecan topping.
Peppermint Brownie Bark is homemade brownies topped with white chocolate and sprinkled peppermint candy pieces.
German Chocolate Truffles – coconut pecan german chocolate filling rolled into bite-size balls and dipped in chocolate.
Salted Chocolate Covered Caramels
Salted Chocolate Covered Caramels are made with just three simple ingredients and are pretty fool proof!  Is there a better combination than chocolate and caramel?
Peppermint Brownie Trifle includes layers of brownie, white chocolate mousse, chocolate pudding and crushed peppermint candies.
Eggnog Cookies are soft and chewy with a delicious eggnog buttercream frosting.
Chocolate Peppermint Bundt Cake
Fluffy, moist, and perfectly delicious Chocolate Peppermint Bundt Cake with cream cheese frosting.
This is an easy and moist chocolate bundt cake recipe.  Top your homemade chocolate cake with chocolate chips and smother it in chocolate ganache for a next cake that everyone will love!
Cupcakes ornaments are an easy and fun Christmas treat that your kids will enjoy making and eating!
Thick and creamy, perfect Chocolate Fudge is one of my favorite easy holiday treats! Makes a great homemade holiday gift as well!
These Brownie Truffles are made from scratch and are one of our favorite holiday treats! Easy to make and completely addicting!
Gooey and delicious Toffee Chocolate Chip bars with a chewy crust and caramel like filling.
Pumpkin Cookies with Caramel Frosting
Soft and cake-like pumpkin cookies topped with a delicious caramel frosting.
Soft and gooey chocolate cookies with small pieces of chocolate mints inside.
These soft, fudgy, homemade mint brownies are the perfect treat for parties and get togethers–Warning, they'll be gone in seconds!
Embellished Chocolate Dipped Oreos
Peppermint Candy Cane Brownies